Several different apps available online feature the ability to stream videos. Whether it be movies, TV shows, anime or live TV, there's an absolute convenience in using such apps to stream favorite content. But not every such app can deliver what it promises or even a good enough streaming experience. But Showbox APK is not one of them. It is one of the popular ones which has proven its mettle and now enjoys strong popularity among entertainment enthusiasts.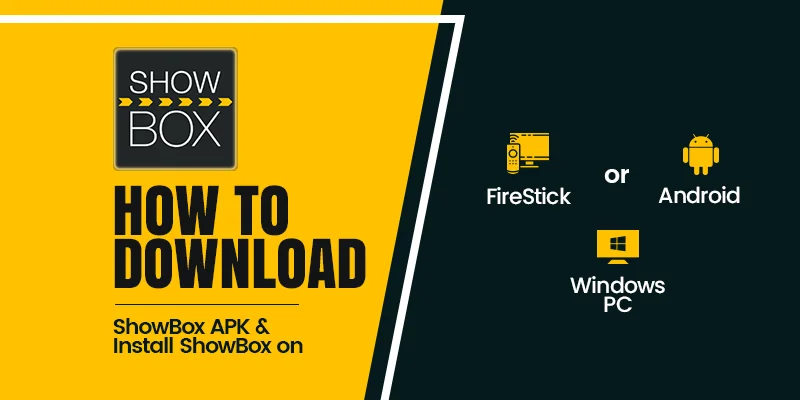 What is ShowBox
ShowBox HD is an app aimed to deliver entertainment to your screen. The app provides a sizable library to choose from in Movies and TV shows. Whichever content you want to watch, chances are that ShowBox HD has it in its library.
It provides this functionality by collecting streaming online links and torrents. Although the functionality is not unique, what gives ShowBox HD a strong position in crowd is that it's kept updated with new content. To give you an example, the available library includes movies and TV shows like Batman V Superman, Game of Thrones, The Flash, and The Big Bang Theory.
A separate tab pushes new trailers and news related to entertainment.
How to Install ShowBox APK Easily
There's a catch though. ShowBox for Android is not available via Google Play Store, you'll need to download the .apk file through other sources. But don't worry, we'll show you show.
Once you have the .apk file, you can install it on any Android device like smartphones or FireStick
Install ShowBox APK on Android
Open web browser
Type in https://apkpure.com/showbox-app/com.tdo.showbox
Download the .apk file and run it
As a security measure, your phone will ask you to confirm if you want to proceed with the installation. Confirm and proceed
Launch the app
Install ShowBox on FireStick and Fire TV
FireStick's OS is based on Android, so it's easy to manually install apps outside of Play Store with a few permissions enabled. The process is straightforward here as well, but we need a download manager to fetch the download.
Follow these steps:
Go to Settings
Navigate to My Fire TV > Developer Options
Check for Apps from Unknown Sources and set it to ON
Download and install Downloader from Amazon app store
Click on the Browser tab
Type in this URL address: https://apkpure.com/showbox-app/com.tdo.showbox
Download the file and run it
Install ShowBox HD
Downloader will ask you if you want to delete the downloaded .apk file, confirm your selection
ShowBox HD will now be available in the apps section. Return to the Home Screen then go into Your Apps & Games. Expand the list by clicking on See All. You should now be able to see ShowBox HD in the library. For a more convenient approach, you can move it to the front by clicking the menu button and selecting Move to Front of List. This will allow you to access ShowBox HD directly from the Home Screen.
On a side-note, you should definitely get rid of the .apk file, it will serve no other purpose than eat up precious storage space.
Install ShowBox for Windows PC
The wonders of emulation are back to give you the ability to run ShowBox APK on Windows. In computing, emulation refers to the act of imitating hardware to run code that was not designed to be run on a different kind of hardware.
Although Showbox HD app is meant for Android, it's possible to run it on Windows thanks to BlueStacks. Which, as you might have guessed, is an emulator designed to run native Android apps on Windows OS. You may even get to enjoy better performance thanks to the app's ability to leverage hardware power available. Forget about those minimalistic designs, this is a visually appealing app with proper thumbnails for displaying content.
It's a simple program and completely free to download and use. Follow the steps below:
Download Bluestacks from the official website
Now go to the link here and download the apk file of ShowBox
Run Bluestacks on your PC and sit through the installation procedure. You can look up tutorials to install Bluestack if you're confused.
Launch Bluestacks and navigate to My Apps
Click on Install APK
Navigate to the directory where you have saved Showbox APK
Install it
Now find Showbox under My Apps section
Is Showbox Still Working?
Although Showbox has been a victim of multiple attempts to take down the app, it has survived all of them. During the time of writing this article, Showbox movie app is working as it should. If you're facing some issues then note down the error and use Google to lookup solutions. There are several tutorials on Showbox addressing some common issues faced by users.
Is using Showbox Illegal?
Short answer: yes. Because many of the live stream links used by Showbox HD are illegal. What that means is that they are playing content not obtained legally, i-e purchased.
The consequences of streaming and download copyrighted content is severe with punishment going up to jail-time. The DMCA is a law intended to protect content and punish for the act of stealing copyrighted content. The United States government works with Internet Service Providers (ISP) to keep a close eye on such activities.
If you get spotted streaming or downloading copyrighted content, you will get penalized. But there's a solution to that which we'll discuss.
VPN Protection for Showbox
As explained above, your ISP is monitoring your activity to prevent copyright protection. The problem is that the user does not know which link is providing illegal content, which can lead them into the DCMA's radar.
Using VPN effectively protects online activity. Encryption is one of the key benefits of VPN. It's a method of securing data, converting it into a format which can only be deciphered using a private key. Because that private key is shared only between the VPN server and the device, it's virtually impossible to steal data. Some top VPNs like FastestVPN use AES 256-bit encryption which is impossible to crack due to the computing power required.
Additionally, the private IP address that VPN server grants you makes you anonymous even to the ISP. This particular aspect also makes accessing geo-restricted website and content easy. In the digital world, this is known as 'location spoofing'. Your actual IP address is masked with the one you borrow from the VPN server.
We cannot stress it enough how important VPN is even if you're just browsing the internet. It's highly-recommended to keep a reliable VPN at your side. Take advantage of FastestVPN's 5 Year plan which breaks down to just $0.83 per month, giving you the best of VPN protection and amazing value.
Conclusion
Showbox movie app is one of the few that actually work. It has been a target of law enforcement agencies but stands still. We don't know until when, but enjoy this amazing app while it's still out there.
Don't skip out on a VPN. It will not only protect you from ISP-monitoring but also give you access to the complete library of Showbox APK.