[ware_item id=33][/ware_item]
Wimbledon is the oldest tennis tournament. The prestigiously regarded event is also known as The Championships. Since 1877 it has been held at the All England Club in Wimbledon, London. The outdoor grass courts are just gorgeous, and to watch the players play is an even greater sight.
Tennis fans without antenna can also enjoy the tournament and watch Wimbledon on Kodi. For those looking for workarounds, this guide is as easy a fix as they come.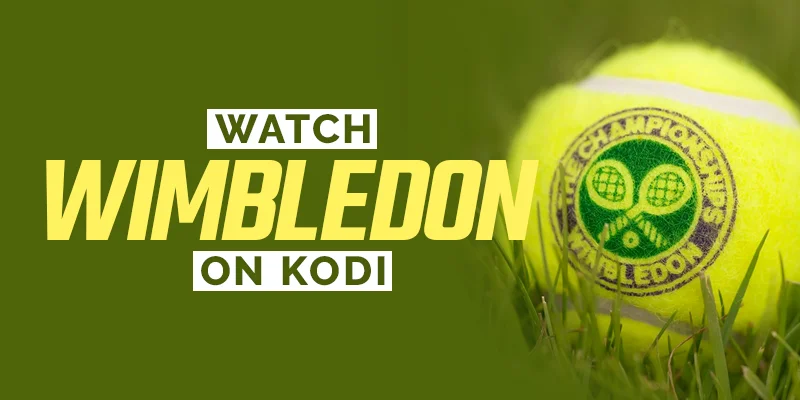 Watch Wimbledon Tennis on Kodi
You can watch the championship from kickoffs to the end on Kodi. Everything, highlights included, is available on the addons that offer free live streaming. Opt for BBC iPlayer Kodi addon to watch Wimbledon championship on Kodi. It is an official Kodi addon that can be installed from the Kodi repository directly.
Most addons are geo-restricted and not accessible outside the dedicated country that they belong to. To get access it is necessary to have FastestVPN.
To watch Wimbledon on Kodi, you need to do the following first:
Get FastestVPN subscription
Connect FastestVPN on the router
OR Download and install app for your device, you are operating Kodi on. (Windows, iOS, Android)
Connect to the UK server to access BBC iPlayer kodi addon
Then launch Kodi and proceed
To install BBC iPlayer Kodi Addon, do the following:
Download Kodi on your Device
Launch Kodi
Select Add-Ons
Go to packages installer (box icon)
From there go to Install from Repository
Select video addons
Then, scroll down to the bottom and find the addon you want
Select iPlayer WWW
Hit Install
Wait for Add-On Enabled notification
The BBC iPlayer add-on is now installed and ready to use. The addon be accessed via video addons on the home screen
The addon is now easily and successfully installed. Though the addon is free, it does have a catch. For anyone living outside the UK, the addon is not accessible. It is working well for live streams for only those who are present in the UK. To watch Wimbledon on Kodi via BBC iPlayer addon from anywhere in the world, you must be connected to FastestVPN. Get the subscription and change your virtual location to get easy access to iPlayer WWW for all the Wimbledon live streaming.
Alternatives – Best Addons to Watch Wimbledon on Kodi
We have a list of best addons to watch tennis on Kodi. Check which ones are live streaming Wimbledon championship and install the addon best fit for the tournament.
Sportie
Sport Devil
Goodfellas 2.0
cCloudTV
Wimbledon Dates 2019
2019 Wimbledon Championships is to kick-off on 1 July 2019 and go on till 14 July 2019.
ESPN will be officially broadcasting the tennis tournament. The family of networks, ESPN, will carry all of the Wimbledon TV schedules ESPN will air entire first week's play while those without cable can watch it on ABC's usual weekend encores.
DateSessionGates OpenPlay Starts Outer CourtsPlay Starts: Show Courts
Mon Jul 1
First Round
10.30am
12.00pm
1.00pm
Tues Jul 2
First Round
10.30am
12.00pm
1.00pm
Wed Jul 3
Second Round
10.30am
12.00pm
1.00pm
Thu Jul 4
Second Round
10.30am
12.00pm
1.00pm
Fri Jul 5
Third Round
10.30am
12.00pm
1.00pm
Sat Jul 6
Third Round
10.30am
12.00pm
1.00pm
Sun Jul 7
No Play
–
–
–
Mon Jul 8
Round of 16
10.30am
12.00pm
1.00pm
Tue Jul 9
Womens Quarterfinals
10.30am
12.00pm
1.00pm
Wed Jul 10
Mens Quarterfinals
10.30am
12.00pm
1.00pm
Thu Jul 11
Womens Semifinals
10.30am
12.00pm
1.00pm
Fri Jul 12
Mens Semifinals
10.30am
12.00pm
1.00pm
Sat Jul 13
Womens Finals
10.30am
12.00pm
2.00pm
Sun Jul 14
Mens Finals
10.30am
12.00pm
2.00pm
Other channels Broadcasting Wimbledon Championship
BBC iPlayer (free in the UK)
Plus 7 (Australia)
ESPN (USA)
Tennis Channel (USA)
Sky Deutschland (Germany)
BeIN Sports (Middle East)
BeIN Sports (France)
Sky Italia (Italy)
Hotstar (India)
SRF (Switzerland)
Key Dates
20 June: Wild cards announced
25 June: Qualifying begins
27 June: Seeds announced 10am (may change if need be)
29 June: The Draw
30 June – 1 July: Pre-event Media Conferences
Prediction
For those who don't know who won last year's Wimbledon; it was Roger Federer who won the men's singles title for the 8th time. Defeating Marin Cilic in straight sets, Federer set an unprecedented record.
Garine Muguruza won against Venus Williams in the women's event.
Conclusion
Watch Wimbledon Championship on Kodi. All cable abandoners can resort to Kodi and enjoy Wimbledon live on Kodi conveniently. Enjoy the whole tournament without any limitations. Get access to geo-restricted free Kodi addons with FastestVPN and watch the players hit the racket in full swing.